Our Address
Owls Racing
Building 36 Room 156
777 Glades Road
Boca Raton, FL 33431
Donations
All donations are tax deductible, we are a nonprofit 501(c)(3) organization.
On behalf of the entire Owls Racing Team, we are immensely grateful for the support of our Sponsors and the many individuals who have generously contributed to the Team over the past several years. Your support is a solid investment into the education of many enthusiastic engineering students. The present and future of our team necessitates continual support from those who wish to contribute to Owls Racing. Contributions of any size are welcomed.
You may make a donation by following the directions at the bottom of this page, or, for Sponsorship opportunities, please contact us directly: OwlsRacing@gmail.com
Make A Donation
Making a donation to Owls Racing is as easy as clicking on the link or picture below - this will take you to the Florida Atlantic University Foundation page where you will see the following. Please select "Other" then type "BOCAR" to ensure your donation is directed to us, otherwise we will not receive it.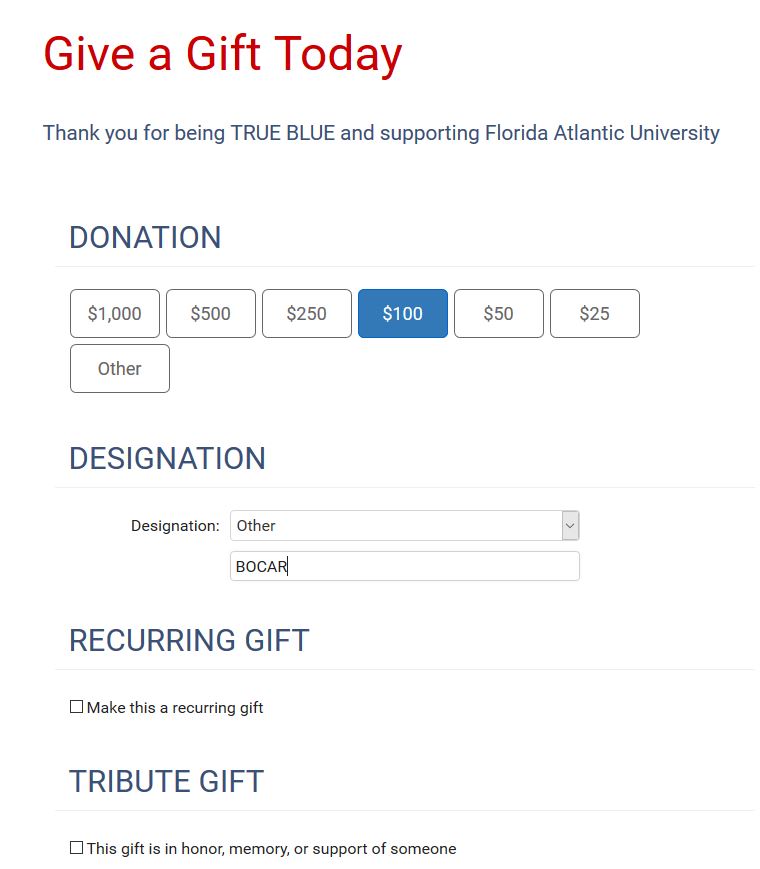 (Click the above picture to go to the donation page. Ensure "BOCAR" is entered into the other field)